Course details
"Cheese and vegetables plenty" Instant bamboo ◎ Choose cheese fondue <180 minutes as you can drink> 【13 items 3980】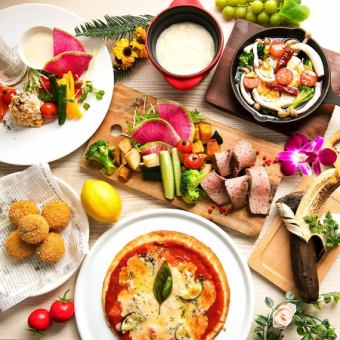 By using a coupon3980 yen
※Tax excluded
All-you-can-drink available

All - you - can - drink A plan (basic course).S plan rank up 【+ 300 yen】
Reservation deadline

Until 22 o'clock the day prior to the desired shop visit date
Available days for reservation

Monday - Sunday - Public holidays - Holidays
3 kinds of pot of your choice, a course where you can chose your favorite cheese fondue! Cheese fondue with flower garden ranch cheese or pumpkin fondue with thick cheese is full of charm ☆ Course in which healthy vegetables full of vitamins are used abundantly There is also a cup of lineup of instant chef ◎ such as camouflage cheese ahijo whole ♪ all-you-can-drink as much as 180 minutes ◎
Course menu
【1】 Baked pasta frit
【2】 Bagna cowder of vitamin vegetables
【3】 Atlantic salmon carpaccio
【4】 Corn and Tartarut's Tartar <1 ~ 4 Assorted>
【5】 cold basil Mix of pesticide tomato
【6】 VEGE salad which you can take vitamins on the 1st
【7】 Organic broccoli and garlic shrimp
【8】 Grilled avocados and fresh tomatoes
【9】 VEGETABLE Ahyejo of the whole camembert cheese
【10】 <1> ☆ Choose cheese fondue ☆ Please choose your favorite fondue from the following ♪
<Flower field ranch cheese cheese fondue> or <rich cheese pumpkin fondue> * If you do not specify cheese fondue of flower garden ranch
or <2> Pot of choice from 3 species
○ ripe tomato cheese pot ○ shrimp avocado soymilk pot ○ excellent chicken rice cake
☆ ☆ ☆ <1> or <2> Please choose the one you like ♪ ☆ ☆ ☆
【11】 <1> Organic vegetables to eat in fondue and rice balls of domestic rice & MEET
or <2> Deep in each pot ○ Tomato sauce ⇒ risotto ○ soy milk pot ⇒ pasta ○ suki ⇒ udon
【12】 Baked freshly baked in stone kiln Margherita plentiful
【13】 Today's kiln baked fruit
■■ Course supplement ■■
○ If there is no designation for main dish (<1> <2>), <1> cheese fondue will be considered.
○ Friday, Saturday and Sunday, + 500 yen on the day before the conference, all-you-can-drink two-hour system.○ You can upgrade all you can drink menu with + 300 yen! 【S plan】
○ [10] will be cheese fondue of flower garden ranch cheese if not specified up to the previous day.
All-you-can-drink menu
· 【A plan】 ★ Beer ★
· Barley / Chandigafu / Cork Beer / Bitter Orange / Blue Beer
· 【A Plan】 ★ Whiskey ★
· High Ball / Ginger High Ball / Cork High Ball / White High Ball / Forest High Ball / Acerola High Ball
· 【A plan】 ★ Sour ★
· Lemon Sour / Lime Sour / Acerola Sour / GF Sour / Green Tea High / Olong Dye High / Strawberry Sour / Melon Sour / Blue Sour
· 【A Plan】 ★ Cocktail ★
· [Cassis] cassis oolong / cassis orange / cassis GF / cassisfizz / cassis tonic
· 【A Plan】 ★ Cocktail ★
· 【Peach】 Reggae Punch / Fuzzy Navel / Peach GF / Peach Fizz / Peach Tonic
· 【A Plan】 ★ Cocktail ★
· [Lychee] Lychee Oolong / Lychee Orange / Lychee GF / Lychee's / Lychetonic
· 【A Plan】 ★ Cocktail ★
· [Gin] Jinfizu / Gin Tonic / Jim Buck / Orange Blossom / Jin Lime
· 【A Plan】 ★ Cocktail ★
· [Vodka] Vodka Fizz / Vodka Tonic / Moscow Mule / Screwdriver / Bulldog
· 【A plan】 ★ Other ★
· Tavernello red white / Would you like plum wine / Wheat shochu / Potato shochu
· 【A Plan】 ★ Soft drink ★
· Cola / Ginger / Orange / GF / Oolong Tea / Green Tea / Tonic Water / Acerola Juice (Soda) /
· 【A Plan】 ★ Soft drink ★
· Pine juice / apple juice / iced coffee / iced tea / jasmine tea / milk tea
· 【S plan】 ☆ beer ☆
· Premium Malt fragrant ale / All Free bottle
· 【S plan】 ☆ whiskey ☆
· Various gym beams
· 【S plan】 ☆ wine ☆
· Carlos Rossi Red White / Kitty / Carimocho / Operator / Splitzer / Barrel Sparkling Wine / Kiel Royale / Mimosa
· 【S plan】 ☆ plum wine ☆
· Yuzu plum wine / Rose plum wine
· 【S plan】 ☆ cocktail ☆
· Kalua milk / Black Lucian / Kalua soda / Kalua oolong
· 【S plan】 ☆ Non alcoholic cocktail ☆
· Saratoga Cooler / Cable Gram / Lemon Soda / Strawberry Soda / Melon Soda / Apple Phrase Le / Black Tan / Matcha Milk / Ichigo Milk / Melon Milk / Blue Hawaiian Soda
Coupons that can be used with this course
2018/11/07 update